Morning Glory ~ William Henry Hunt and James Holland/Attrib.
Morning Glory ~ William Henry Hunt and James Holland/Attrib.
| | |
| --- | --- |
| Title: | 'Morning Glory' -A Portrait of a Young Girl Wearing a Garland of Flowers |
| Artist: | Attributed to William Henry Hunt (1790-1864) and James Holland (1799 -1870) |
| Detail: | Oil on canvas: 17 ½ x 18 in. Frame: 23 ½ x 24 in. Circa 1820 |
| Price: |  £6,850 |
| Location:      |  Hungerford |
Artist Biography
An enchanting head and shoulders portrait of a young girl wearing a white shift, her short dark curls crowned with a red-ribboned wreath of Morning Glory flowers, with her cheek resting on her hands clasped atop a column, against a ground of blue sky and two fluttering peacock butterflies.
An Introduction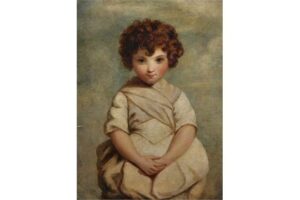 Sir Joshua Reynolds's 1779 painting "Collina"
This unsigned work can be dated to the 1820's, and is by a very accomplished hand. In the late 18th and early 19th centuries, British painting was strongly influenced by Sir Joshua Reynolds (1723–1792). The young girl in the present work bears a marked resemblance to Lady Gertrude Fitzpatrick, who was the subject of Reynolds's 1779 painting entitled "Collina" (Columbus Museum of Art).


It is likely the artist was familiar with this work and used Collina's pretty face as the figure in the present fancy portrait.
The portrait is almost certainly an allegory; Collina's spiritual face, morning glory flowers signify love, affection or mortality and also the month of September. The butterflies typically represent the Greek goddess Psyche.
It is interesting to note the importance given to this painting by the then owner when the canvas was relined in the 19 th c, since the stretcher is impressed with the stamp "W. Morrill Liner". William Morrill (1838-1910) picture restorer took over his father's business in 1866, working extensively for the National Gallery, National Portrait Gallery, Royal Collections and other prominent collectors.
Attributions
This work dates to the 1820's, too early to be by a high Victorian painter but has a pre-Raphaelite quality, so the artist surely went on to become a prominent mid-Victorian painter. There are only a few young artists painting in the late Regency period who could have executed the work. The very prominent Morning Glory suggests the hand of an accomplished flower painter who was very confident with morning glory flowers. James Holland RA (1799-1870) is a strong contender but he lacked skills as a portrait painter.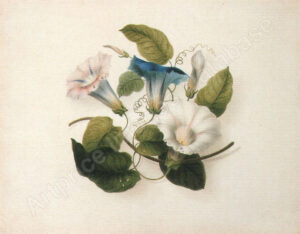 'Morning glory', James Holland 1826. (Pencil, watercolour, gum arabic/paper)
Holland also favoured 'tondo', and is known to have painted several studies of morning glory  and placed butterflies in his flower pieces Several years of research led us to the firm conclusion that the work was a collaboration between James Holland and his close friend William Henry Hunt an accomplished painter of portraits, genre and still life. Hunt painting the young girl based upon Reynolds 'Collina', with Holland painting the flowers, sky and butterflies.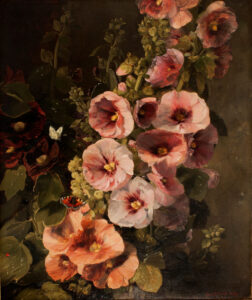 Sir Joshua Reynolds's 1779 painting "Collina"
William Henry Hunt (1790-1864) was one of the key figures in nineteenth-century English watercolour painting. His work was extensively collected in his lifetime, particularly his genre pictures of children, often in humorous situations, and his detailed, naturalistic still lifes of fruit,
flowers, and birds nests that earned him the nickname 'Bird's Nest' Hunt.
James Holland (18 October 1799 – 12 December 1870) started his career painting flowers on pottery and porcelain for the William Davenport in Longport, before going on to be recognised as one of the finest watercolourists of the English School, best known for his flowers and later views of Venice. Holland was a member of the Royal Watercolour Society and first exhibited at the London Royal Academy in 1824.
Gallery notes
We researched this enchanting painting for several years, being torn between a collaboration of several possible young artists of the time, including James Holland, William Etty, Charles Baxter, William Hunt and others.
Kevin's family, owned James Hollands' 1881 Royal Academy exhibit 'Hollyhocks' (ill.3) which he sold on behalf of his mother in 2013. Kevin grew up admiring Hollands distinctive blue sky, rich colouring of his flowers and graceful Peacock butterflies, a quality he saw in 'Morning Glory'. We are very grateful to Steve Bond, fourth generation descendant of James Holland and author of his biography 'James Holland, The Forgotten Artist', Pub. Churnet Valley Books for his kind assistance with our attribution. Steve Bond researched his biography over 10 years, and enhanced it with a detailed and comprehensive list of Hollands' known works.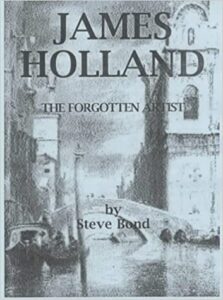 'James Holland, The Forgotten Artist' by Steve Bond