Portraits of Scottish Sisters, a Pair~ John Alexander/Attrib.
Portraits of Scottish Sisters, a Pair~ John Alexander/Attrib.
| | |
| --- | --- |
| Title: | Portraits of Two Young Scottish Sisters. Wearing a Yellow, and a Blue Dress, in Feign.Ovals. |
| Artist: | John Alexander Attributed to (1686-1766) Scottish |
| Detail: | Oils on canvas. 30 x 25 in. frame: 35 x 30 in. Circa 1730 |
| Price: | £9,800 (pair) |
| Location | Hungerford |
Artist Biography
This fabulous pair of portraits are consistent with the work of John Alexander, the Scottish portraitist best known for his Portrait of James 5th Duke of Hamilton with the artist, signed and dated 1724 (Duke of Hamilton Collection, Lennoxlove), which displays the same distinctive characterisation and the same stiff, fan-like folds to the linen.
Our paintings are especially comparable with the portrait of John Callander of Craigforth, dated 1745, in the collection of the Duke of Argyll at Inveraray Castle, attributed to John Alexander (image shown below on file at the Heinz Archive, National Portrait Gallery, London).The portrait of John Callander resembles the Portraits of Two Sisters very closely, setting the figure identically within a very similar wide architectural feigned oval, as well as resembling our portraits in the drawing of the sitter's features and in the distinctive curls framing the side of the sitter's hair.
John Alexander, son of an Aberdeen doctor, was the great-grandson of George Jameson, the most famous Scottish painter of the seventeenth century. He worked for the Duke of Gordon, a Catholic and a staunch Jacobite. Most of his clients were from the north-east of Scotland and many were Jacobites. He took up arms for Prince Charles in the 1745.
ATTRIBUTION :We are very grateful to James Innes-Mulraine of Mulraine Research for his kind assistance with our research.
Museums: National Galleries of Scotland, Scottish National Portrait Gallery.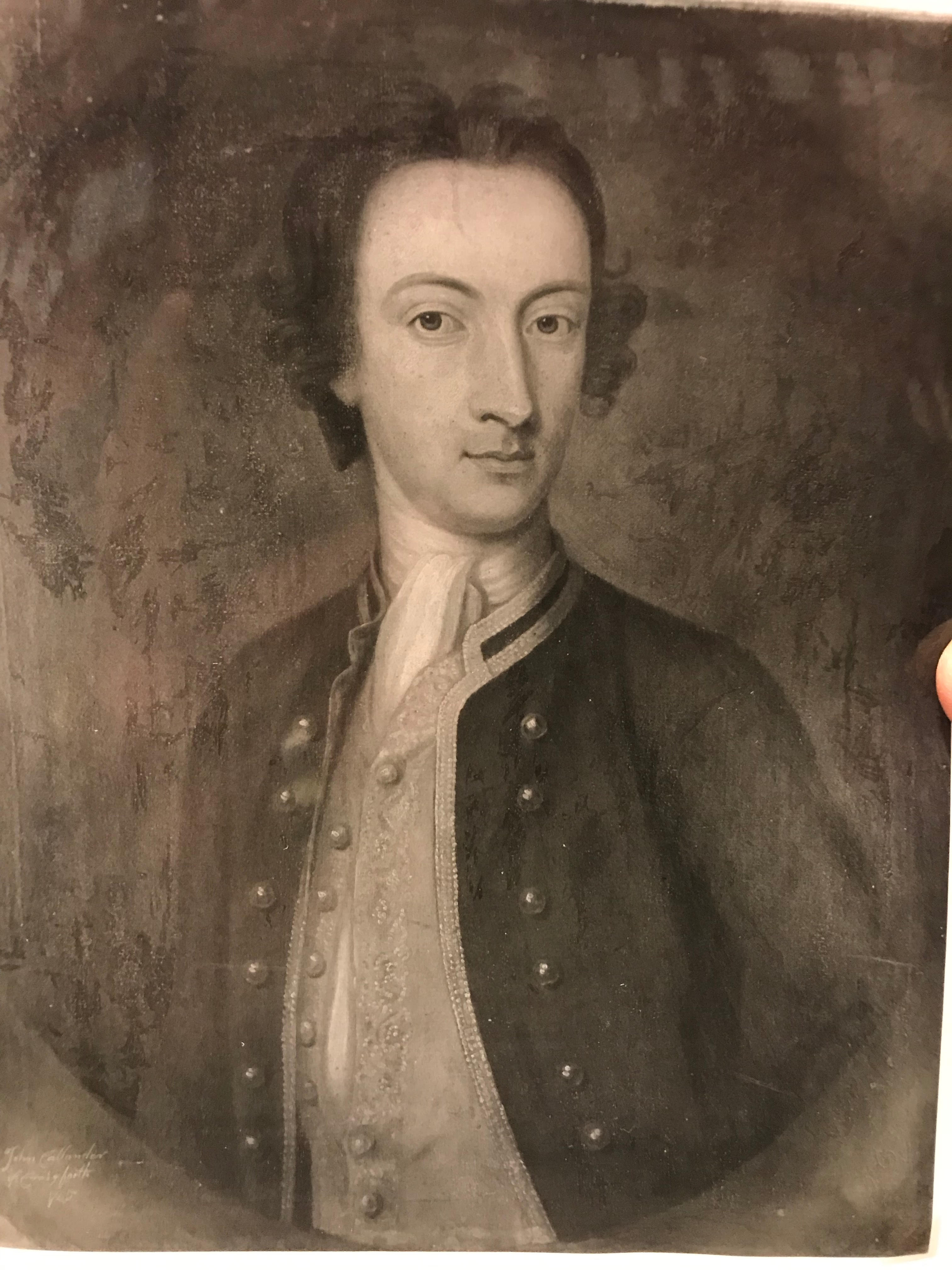 Image of the portrait of John Callander of Craigforth, dated 1745, attributed to John Alexander