King Charles I ~ Sir Anthony van Dyck /After
King Charles I ~ Sir Anthony van Dyck /After
| | |
| --- | --- |
| Title: | Portrait of King Charles I |
| Artist: | Portrait of King Charles I After Sir Anthony van Dyck |
| Detail: | Oil on canvas: 23 x 18 ½ in Frame: 31 x 26 in. Late 17th/early 18th century. Old label on frame verso. |
| Price: | £8,500 |
| Location: | Hungerford |
Artist Biography
This important and well executed portrait shows the King in full face position in armour , based upon portraits of Charles I (1600-1649) by Sir Anthony Van Dyck, example: 'Charles I, Three Positions, 1635-1636'.
As with almost all of Charles' portraits, numerous repetitions were made to satisfy the demand for the King's picture in support of him during English civil war (1642 51), and copied by English artists after his death.
Provenance: Old label on frame verso- 'From the Fairfax Collection*, Leeds Castle'. Bought at Christies in 18 – -, at the sale of Mr. Hughes's collection (of Winchester) by Sir Thomas Phillipps**, Bart of Middle Hill'
*According to an old label the portrait was from the Fairfax collection, Leeds Castle which passed into the hands of the Fairfax family in 1690, through Catherine Culpeper's marriage to Thomas, 5th Lord Fairfax. In 1745, their son, the 6th Lord Fairfax, sailed for Virginia to manage his estates and settled there for life. The Castle then passed to his brother Robert the 7 th Lord Fairfax (1707–1793), who held the castle for 46 years, and spent large sums refurbishing the reception rooms in the main house for his royal guests. He died at the castle in 1793 without an heir, and penniless.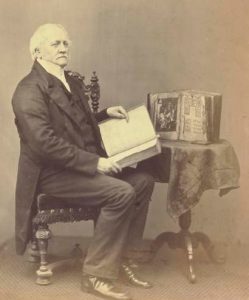 **Sir Thomas Phillipps, 1st Baronet (1792- 1872), an English antiquary and book collector (shown above) ,who amassed the largest collection of manuscript material in the 19th century. Born at 32 Cannon Street, Manchester, on 2nd July 1792. He purchased Middle Hill, Broadway in Worcestershire in 1794, and was made baronet 1821.
Gallery notes: This fine head & bust portrait of Charles I was originally painted in oval form circa 1700 and later relined onto a larger canvas and high-quality mahogany stretcher, with superb mahogany composite gilt frame, in the early 19th century.
Thomas Fine Art carefully removed earlier restorations and additions to the enlarged canvas, and professionally restored the original oval section. A new gold spandrel was added to present the portrait true to the original oval image that is said to have hung at Leeds Castle in the 18th century. It was interesting to note that restoration of the darker colours was only possible using especially prepared Van Dyke brown pigments, which strongly suggests the work was executed in the second half of the 17th  century.