We are delighted restoration and research is now complete .
Christies stencil on the stretcher proved to be from a London sale in 1904 consigned by a wealthy patron of 10 Portman Square, and catalogued as 'Paris [the Defender] and Helen [of Troy]' by an Italian School.
Our research showed comparisons to the allegorical works of the Italian Neoclassical painter Andrea Appiani (1754-1817) although we have not been able to firmly attribute the work to the artist. It is in our opinion a work by an Italian hand of the period of the Andrea Appiani, and showing his influence ('Circle of').
Paris with Helen will go on display at Great Grooms in Hungerford late December.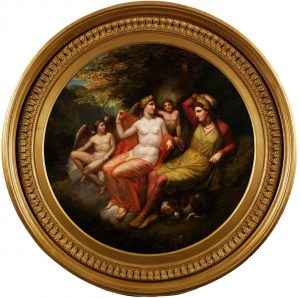 Andrea Appiani , Circle of (1754-1817) Italian
Paris with Helen and Cupids, seated on a rock
Circular oil on canvas: 24 x 24 in.  Circa 1790