David Garrick ~ After Sir Joshua Reynolds
£3,850.00
SKU: N/A
Out of stock
Portrait of David Garrick
Product Description
| | |
| --- | --- |
| Title: | Portrait of David Garrick |
| Artist: | After Sir Joshua Reynolds (1723-1792) |
| Detail: | Oil on canvas. 12 ½ x10 ½ in. Frame: 22 x 20 in. Old label verso. Circa late 18 th century. |
| Price: | £3,850 |
| Location: | Hungerford |
Introduction
David Garrick had many portraits painted, including by his many artist friends. These portraits were copied by engravers and etchers to supply the growing market for celebrity portraits. Among the most famous portraits of Garrick are those by Hogarth, Reynolds, Gainsborough and Zoffany. The National Portrait Gallery has 55 works associated with David Garrick.
Sir Joshua Reynolds painted several portraits of his friend the actor David Garrick. This half -length portrait, circa 1776 shows Garrick wearing a brown coat and powdered wig, seated at a desk gazing at the spectator, hands clasped composing a prologue. One version of the painting, known as 'the Prologue portrait' is in the National Trust collection at Knole, Kent. Another version, a copper plate engraving features as the frontispiece for 'The life of David Garrick Esq' by Arthur Murray publ.1801 by D.G. Wright, vol. 1.i ,illustrated below: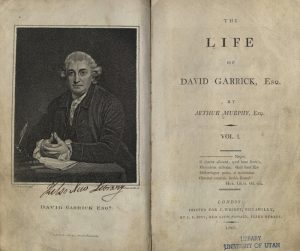 Artist Biography
David Garrick (19 February 1717 – 20 January 1779) was an English actor, playwright, theatre manager and producer who influenced nearly all aspects of theatrical practice throughout the 18th century. It was his appearance in the title role of Shakespeares Richard III in 1741, that audiences and managers began to take notice.
Impressed by his portrayals of Richard III and a number of other roles, Charles Fleetwood engaged Garrick for a season at the Theatre Royal, Drury Lane. He remained with the Drury Lane company for the next five years and purchased a share of the theatre with James Lacy. This purchase inaugurated 29 years of Garrick's management of the Drury Lane, during which time it rose to prominence as one of the leading theatres in Europe. At his death, three years after his retirement from Drury Lane and the stage, he was given a lavish public funeral at Westminster Abbey where he was laid to rest in Poets' Corner, next to the monument to William Shakespeare.
Many memorials and theatres were named in Garrick's honour including The Garrick Club in London, and Garrick Theatre in Whitechapel.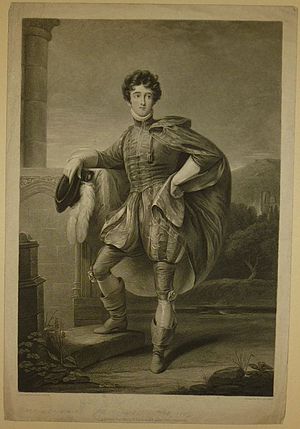 Provenance:
John Langford Pritchard (1799 – 5 August 1850). An old label verso suggesting provenance with the English actor. Pritchard's first appearance in London was made in 1835 at Covent Garden as Alonzo in  'Pizarro'. He played Macduff, and was popular as Lindsay, an original part in Fitzball's 'Inheritance'.During Macready's tenure of Covent Garden in 1838 he reappeared as Don Pedro in the 'Wonder,' Macready himself playing Don Felix, which was held to be Pritchard's greatest part.
You have not viewed any product yet!