Restoration of an Allegory -December 2019
Partial cleaning of a recently acquired and heavily restored allegory in the manner of the Swiss Neoclassical painter Angelica Kauffman, has removed an astonishing 100% over-paint, revealing a beautiful original 18th century allegory underneath.
Images below show our 'test clean' (Top), and  'after a partial clean' revealing areas of the original allegory.
We will update our news page when the allegory is fully cleaned early in 2020. Restoration will then start to bring the painting back to its former glory.
We are in discussion with experts in this period of art ,and we can say at this stage the subject of our allegory is not associated with Angelica Kauffman, but rather a very good Italian hand. Watch this space!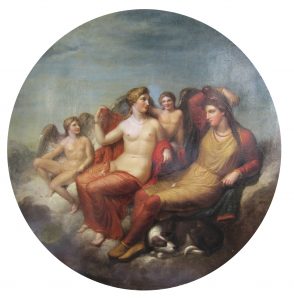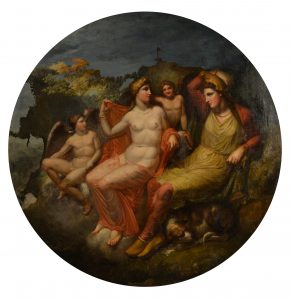 Regency Actor Identified- January 2019
Thomas Fine Art discover the identity of an Actor of the Covent Garden Theatre Company by Henry William Pickersgill R.A., with the help of Understanding British Portraits professional network at the National Portrait Gallery.
Master Dourousset  aka John Duruset (1796-1843) a musical theatre actor known as the "Young Musical Roscius". He appeared at both the Drury Lane and Covent Garden theatres. Exhibited at the Royal Academy in 1811, (No. 426)